Look, we get it - a regular beach umbrella is big, long, and difficult to carry. That's why we invented the most portable beach umbrella. We didn't stop there. We are dedicated to offer customers great portable outdoor gears so you can focus on what's important - the journey.
We are known for portable beach gears that fit into your suitcase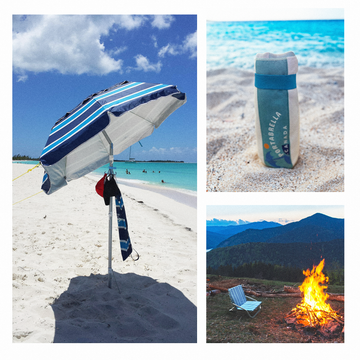 Welcome to Portabrella, your go-to online store for portable umbrellas and outdoor gear! Since the 1980s, our journey began with our first appearance on shadeusa.com, and ever since, we have been committed to providing high-quality, innovative, and reliable products for all your outdoor adventures.
What Sets Us Apart:
At Portabrella, we take pride in being pioneers in the portable umbrella industry. Our products are carefully crafted using the finest materials to withstand the harshest weather conditions, making them ideal companions for your outdoor escapades. With advanced technology and innovative features, our umbrellas are not only lightweight and easy to carry but also quick to set up, providing you with instant shade and protection when you need it most.
Our Extensive Collection:
Over the years, we have expanded our product range to cater to all your outdoor gear needs. From foldable camping chairs and sturdy hiking poles to versatile camping tents and more, we curate a diverse selection of outdoor essentials that ensure you can make the most out of your adventures in comfort and style.
Commitment to Customer Satisfaction:
Customer satisfaction is at the core of our values. We strive to provide top-notch customer service, ensuring a seamless shopping experience from the moment you land on our website to the delivery of your order. Our team is always available to assist you with any queries, offer expert advice, and guide you in selecting the perfect gear for your specific outdoor activities.
Eco-Friendly Initiatives:
We are dedicated to preserving the beauty of nature, which is why we actively work towards incorporating sustainable practices in our operations. From utilizing eco-friendly packaging materials to partnering with environmentally responsible suppliers, we are committed to minimizing our environmental impact.
Join the Portabrella Community:
When you choose Portabrella, you become part of a vibrant community of outdoor enthusiasts. We encourage you to share your adventures, tips, and experiences with us and fellow customers through our social media channels. We love seeing our products in action and hearing how they have enhanced your outdoor explorations.
Thank you for being a part of our journey! We look forward to continuing to serve you with the best portable umbrellas and outdoor gear, making every outdoor experience enjoyable, comfortable, and memorable.
Do you have any questions about our products? Contact us here and we'll be sure to answer any questions or concerns!  portabrella@gmail.com
Happy exploring!
The Portabrella Team